I've spent my career in marketing and communications from starting as a newspaper journalist, then magazine editing, to doing public relations and communications for organizations.
I took all those skills and experiences and embedded them in my former software company.
And when I reflect on and talk about our company's success and growth, I always include marketing as an indispensable and foundational part of it.
One of the services I thoroughly enjoy offering to clients is guidance with their marketing strategy and execution.
I'm currently offering a Fractional Chief Marketing Officer service to select businesses and organizations who need guidance in just that.
Here are some details about how I think and approach being a Fractional CMO for clients:
Why a Fractional CMO?
Business owners, entrepreneurs and CEOs might look to a Fractional CMO for a couple of reasons, but here are the keys I see:
Not making real progress on your marketing efforts

Not getting consistent results
Don't have the time, energy or capacity to do it all
Can't afford a full-time CMO to drive your efforts yet
Ready to embrace digital marketing for your business
Why Me?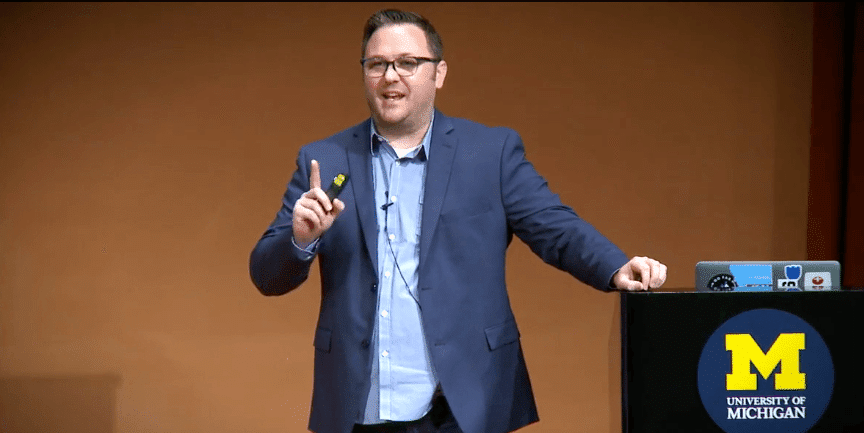 I've been there and done it.
I started, grew and eventually sold a multimillion dollar company (iThemes), from my home office to a team of 25+, using the digital marketing strategies I now guide others to implement.
You can learn more about me here, or on LinkedIn.
My Approach: Build a Marketing Snowball
You get the idea of the snowball …. it starts with just a small ball of snow clumped in your hand. It starts slow and seemingly insignificant but with sustained effort it builds and builds to something bigger and better.
I'm talking about a Marketing System. And every business should have one.
The ultimate goal is to build forward momentum and inertia, where the snowball can eventually get even bigger with less effort and more and more impact — into a system that can be repeated, measured and grown.
I help others build, refine and grow their marketing snowballs that are:
Impactful — moves the needle
Repeatable — can be done consistently
Measurable — can see the results and tweak the dials to improve
Incremental — can be done step by step, that builds on each step
My Process: How I Do It
Step 1: Deep Dive
Through two 2-hour meetings, I want to get to know you and your goals, vision, values and challenges.
Outcomes & Obstacles
I'll ask questions like:
What do you really want?
What's success look like?
What are you ready and willing to do to get there?
What's in your way and frustrating you?
A.M.P.S. Framework
Using my framework for how I have gotten and continue to get the best marketing results for you will build the foundation for my recommendations and action plan for you.
Audience (Who)
Who are your best (or target) customers?
When looking for a solution, what are they really looking for?
What is the primary reason they buy?
How do they become customers?
What do they need to know, think, believe, do before they get to you?
Messaging (Why)
How are you reaching them? (See Checklist next)
What are you saying or offering?
How are you measuring it?
Product (What)
What is your product offering and how is it unique/different?
What questions do they commonly have about your product?
What objections or challenges do they have?
What is the product experience for them? What is the customer outcome?
How do they feel, think, act, believe differently?
System (How)
What's your system for getting leads to then converting to customers?
Who? What? How? When? Of your entire marketing system
What score would you give for each part of the system? (See Scoring Next)
Step 2: Get Your Marketing Gameplan
Once I've done my deep dive and worked with you and your team, I get to work, identifying and recommending next steps in four key areas:
The Foundation — the essential marketing pieces we need
The Impactful Wins — the best, fastest wins for the money to start
The Scorecard — how to measure results and effectiveness
The Next Opportunities — what strategies and tactics we can add later
Then we'll meet again to go over the Gameplan together.
Step 3: GO GO GO!
Once we've gone over your Gameplan, you can figure out which of these three options you want to proceed with:
Do It Alone — Take the Gameplan and go on your own!
Go Alongside You — Get guidance and support

Bi-Weekly Meetings To Check-in, Answer Questions,
Offer Guidance, Ideas and Support

Do It For You — Manage and execute for you

Weekly Meetings
Manage your marketing projects
Direct your team team
Reporting to you
I can customize ongoing retainer work to assist you, or do it for you.
How Do I Get Started?
The best way to see if we're a fit is to book a Marketing Discovery Call today, or use my contact form if you have questions.