All my life I've been in a rush.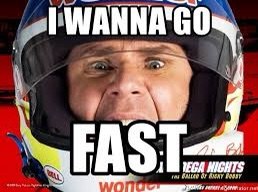 Push. Rush. Drive. Harder. Faster. Farther.
Always thinking about the next thing. my mind on the future and driven to go go go.
But last year or so my body has said: No more fast. No more rush.
Call it pandemic, lack of taking care of myself all those rushing years, or being in my mid-40s or a combo … but I'm relishing this new school zone speed.
Of course I fought against it. Of course I'm scared.
I was so caught up in the Soundtrack of Fast and Furious that I didn't realize what all I was missing.
Reminds me of when Lindsey and I got scooters. I had never really ridden motorcycles on the road despite growing up on three and four wheelers off road.
As we scootered around town, I saw things I normally missed. I smelled things I normally didn't smell.
I experienced things differently in scooter mode.
And it was delightful.
I put my life in one speed — fast. And now I've shifted down and going slower and slower. And experiencing the richness of life at a more normal speed.
I realized a couple weeks ago, I don't have to rush anymore.
I came out of ludicrous speed.
And now I'm just seeing the beauty of presence in life when it's not in a blur … and savor it.