It's been a good week on the physical health journey already and it's only Tuesday, so I thought I'd share a couple of updates.
1. Went for my physical this morning and got some initial great news.
Blood pressure is lower but probably have a tad more to go. I've lost some weight (but let's be honest the doctor's scale was likely not calibrated right). And even got a handshake from my awesome doctor for all the stuff I've been working on, layering into my life.
The best part? I didn't faint when they took my blood.
Hope to get results back later this week.
And I scheduled another physical in 6 months with my doctor to be able to mark and measure my progress then too.
2. Got the first night of my two-night home sleep study done last night. The next one is tonight.
Being able to stay in my own bed, and sleep normally, was super great. The head strap and nose vents were rather comfortable. I didn't even notice the nose vents at all during the night, even as I turned over and back again.
The last couple of nights, I've been viewing my Fitbit's sleep stats and hope to compare with this study. It's been really interesting to see my current sleep patterns. I need to do a bit more research about the sleep stages, including REM, which I've heard so much about. First observations from about four nights of sleep seem that I'm getting into REM way later in my night and for not long enough.
I should know something by Friday on my sleep study.
(If you're curious to see how the home sleep study rig looks like, as I was, here ya go. And you can read more about home sleep studies here.)
3. Got a Couch to 5K app and did my first exercise on Monday.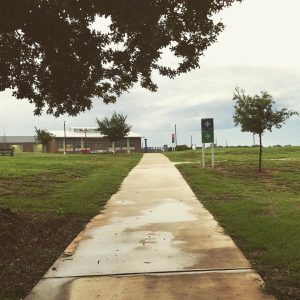 Several people recommended this as a great way to start running and I already like it.
My first workout was a 25-minute total routine. One minute runs, with 1.5 minute walks 6 times. The first couple of runs I didn't know if I was going to make it. By the third or fourth I was feeling really good.
Right now, I don't have any aspirations to run in an official 5K, but love how simple this is. And I know I have to take baby steps with this, so it's right up my alley.
We have an amazing paved trail system at our local health department office, which is maybe a mile from our house. I'll be using that a lot. It has hills, some equipment spread throughout and is beautiful.
No need for a gym membership right now, or huge drive or time away from the family or work. Lindsey and I are talking through our morning schedules as she's been running early in the morning for the last several years, but I don't want to disrupt hers until I actually start doing it more frequently.
On the way back home and for the rest of the day, I could tell a bump from just workout and I'm actually eager to go again.
Looking forward to my next run Wednesday or Thursday.
4. Switching to learning calories. 
Now that I've got a couple weeks of Weight Watchers (aka food for dummies like me) under my belt, I'm switching to learning calories better.
Weight Watchers was really, really good way to start off and learn. Now I want to go to the next step, which I think is calories. I'm fully switched over to using Fitbit now for almost everything (calories with barcode scanning, food logging, weight, sleep, steps). It's been awesome to have everything in one place.
5. We got a home treadmill.
My cousin needed to free up some space in her house and gave us her treadmill. So Lindsey and I cleared out space in our bedroom for it. Now to get it setup and use it as well as the one at our office.
6. Support and encouragement has been unexpected and phenomenal.
I've gotten great comments here, on Twitter, on Facebook, and in texts and in person from people encouraging me and offering tips and ideas that worked for them.
When I originally started sharing this I want to simply share what I was doing and learning … but it's pretty incredible and I'm so grateful for people in my life who care … even if they live thousands of miles from me.
Life is better lived in community. And you've been incredible. Thank you!
***
OK, that's the update for now.