I'm going to unpack the above image in a couple minutes, but first, some backstory:
Over the couple of weeks I've been going back to the basics — my anchors — and digging deep and asking myself, what do I want, what's my bigger life aim and purpose.
It's been tremendously energizing. Especially as I've found myself more busy than ever and wanting to connect the dots and align all the things.
Two years ago, I wanted to figure out the next steps so bad but felt like a dry well.
But anyway, here's how I started:
Do Good: Starting With Purpose
First, asked myself, what I want my life to be about (personally and professionally).
I also asked WHO I want to be. And I explored my roles/identities in life including husband, father, mental health advocate, entrepreneur, leader and thought through my ideal outcomes of who I want to be.
Then some of my big beliefs, mostly about change and transformation in my world I want to see. And then examined some major themes of my life, people I am drawn to serve and support.
And I let it all marinate for a couple of days and would come back to it, whittle on it, expand it, shrink it, organize it, sort it.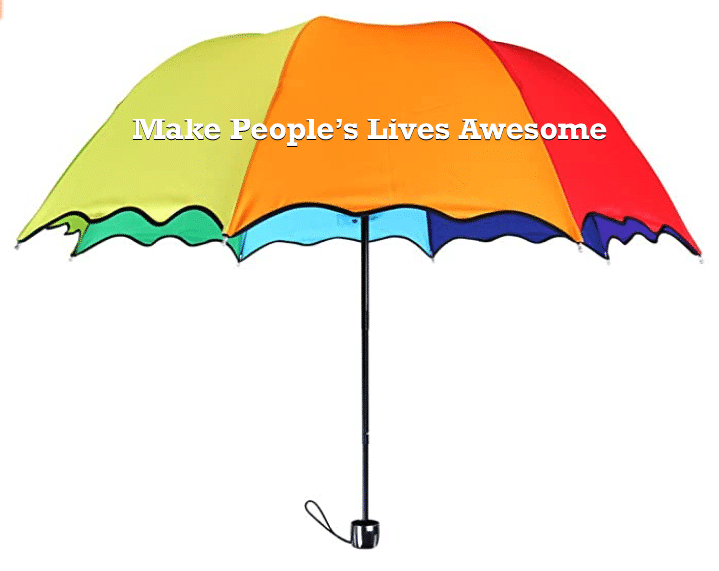 Eventually, I came out with a couple of big life themes that I return to over and over and over.
The first is my life mission and what I put big and bold on this site.
MAKE PEOPLE'S LIVES AWESOME
It's the big umbrella of my life.
Underneath that, I came to a couple of sub-themes:
Be the BEST for myself and my people — if you read yesterday's post, you can understand why I listed this first.
Inspire growth & greatness — this encompasses all of my life and work, and starts at home and goes out to entrepreneurs and leaders (my people).
Be fabulously yet generously wealthy — I hesitated listing this, but it factors in for the second part. I don't want to be wealthy for wealth's sake. I want it to buy our family's life experiences … and also to support good work in the world.
I fleshed these out in much greater detail than I'll share here, but those are the highlights.
When I started thinking about the Do Good part and the theme of Inspiring Growth and Greatness, the engine really got going. Those are the things that come naturally to me, and from my heart.
Which is great … but they have to connect to the Do Well part. I need to make a living in this world and that means getting paid for some of those things in the Do Good part — WITHOUT APOLOGIES.
Do Well: Next on to Profit
Next, this is where it go even more fun and I landed on some OUTSTANDING alignment for the projects and work I do.
I'll share part 2 tomorrow.