Written by Lindsey Miller
I just got back to work after a great week at CaboPress and thought I'd share some memories as well as takeaways and highlights of this year's awesome event.
2014
I attended my first CaboPress in 2014. I was able to join my husband, Cory Miller, who was a host, as a guest as Chris Lema the host and creator of CaboPress asked us our whole family to attend. We brought along our son, Caloway, and as luck would have it found out the night before we left that I was pregnant to what would become, our daughter.
So, my first CaboPress, although amazing, was one filled with kids and relaxing and not as much connecting with anyone else in attendance. Cory raved about it for another year before he could attend the next one, until this year.
2017
For CaboPress 2017, Chris asked me to co-host and after he assured me that he was not joking I couldn't stop thinking about attending my first CaboPress and actually getting to take part in all of the discussions and connecting with so many WordPress business owners.
The first day of talks I was eager to hear from Tony Perez about hiring lessons. If you haven't had the chance to hear Tony speak or talk to him at a conference then you are missing out! He is someone I know I can listen to and will always walk away with something to implement or change about myself. He has a way of being funny which helps people like me not be intimidated by how remarkably intelligent he is.
During his hiring lesson it inevitably turned to firing as well. I walked (or swam) away afterwards really thinking hard about those decisions and their place in a good productive business. I think it takes awhile to get really good at hiring the right people and that leads to having to let go of the wrong hires, but because we are new and probably really nice people we have a hard time with those difficult choices.
Listening to Tony and others share their stories really made it more of a decision of practicality and also helping those who entrust us with their employment. I will never look at those choices the same again.
Next I went to Cory's talk on mastermind groups. I am not going to do all of us a disservice by telling you all how wonderful and brilliant he is, because we all know it. I also am not going to go over the many insights he gave us about belonging and how being a part of a forum group as part of Entrepreneurship Organization has shaped his life. Nor will I tell you how many of the people who attended his talks belong to such groups or are looking for one to be a part of and that Cory really helped shape those new groups with some of the insights he has learned, such as accountability rules and the law of Gestalt talk. I won't mention those things since I am married to him and you may not realize that I am unbiased and he really is fantastic to listen to and learn from.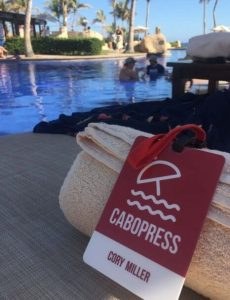 Wednesday brought talks by Sherry Walling on mental health, which I attended and Syed Balkhi on retreats. Sherry's talk was well attended and as always brought many thoughtful answers to all of the questions she fielded. I was really moved by all of the questions that others asked, worried for and about their own actions and how they could potentially impact their employees. It shouldn't come as a surprise when I find so many kind people in one place, but it still does every time.
Next up was a talk I led, "How to Build a Network," and as is the custom at CaboPress I tried not to just talk at everyone, but lead a discussion amongst those gathered. I leaned on my knowledge of the political arena I am so familiar with and drew parallels between my skills there and now in the sphere we are in. We all got to laugh a little and also heard from some of my friends who know a lot about building strong networks, like Jennifer Bourn and Mendel Kurland.
On Thursday I attended talks by Tony, again, because I never miss an opportunity to learn from him and Jennifer Bourn, for the exact same reason. These are the types of hosts that everyone comes to CaboPress to be around. I personally just wanted to be near them hoping to gain knowledge by osmosis if nothing else.
Jennifer led a talk on "Branding," and I am not lying when I tell you that I heard multiple people say it was THE TALK of the week. We all walked away with actionable intelligence for our businesses and future growth. I asked so many questions that I felt like I should just have set up a separate meeting. Jennifer (not unlike any other host), isn't afraid of sharing her vast knowledge. She will tell you everything that she does or thinks if you simply ask. I was not the only one in her talk that tried soaking everything up that she had to say.
It is these talks and discussions that make CaboPress so amazing. I went in to this year viewing it really as my first time, so I felt a little wide-eyed and bushy-tailed for most of it and just tried to learn as much as I could.
It's All About Relationships
But that isn't all that makes CaboPress the conference everyone raves about.
It is the relationship building that is the most impactful for me.
Each night, Chris gave us topics to discuss and guidance on how to choose new dinner mates and restaurants. As there are many choices of each. I tried dining with new people each night and the conversations ranged from the personal to the professional. I feel like it was during the meals where I made really strong connections with people who I hope will be friends for a long time to come.
Not only that, but during the afternoon free time, I had so much fun and made some amazing friendships. The first day Cory and I ended up at a pool where Cori and Phil Derkson, from WP Simple Pay, were hanging out.
Soon we were joined by Carrie Dils and Katie Elenberger and we had a blast! We hung in the pool for a long time and then ended up on the beach catching fish with our hands and (some of us) body surfing. It will definitely be an afternoon I will remember for awhile.
On the shuttle in I sat with Erin Flynn, and we connected immediately and talked all week long. She has become someone I want to learn from and hope to continue to build a friendship with. David Payette and I didn't get to connect and promised at the next conference we would, until we ended up on the shuttle home together and had an incredible talk with Katie during the ride.
Another night I told everyone about my theory of "Pretending Fancy," and how I often live my life this way. And it resulted in much laughter and teasing the rest of the week.
The last night I stayed up way to late playing board games with Marc Gratch, The Ninja's and Melissa Lema. At times I was laughing so hard I was crying. For a quiet night I snuck away with a few friends for a quiet evening of talking about our histories, our families and why we are who we are.
It is these types of experiences that make CaboPress the amazing conference that it is. No matter where you turn you are around incredibly smart, kind people who are looking to gain knowledge, but also want to help others. There wasn't a meal shared or a drink poured that didn't include great conversation and idea building.
For me, my takeaway is I left the week feeling much more empowered than when I came. I really did feel like Chris was joking with me when he asked me to co-host. But as the week went on and I really did have value to provide for other attendees it didn't feel like such a joke anymore. I felt like I did have a place there. I was there to learn, for sure, but I also had experience to give.
I only made one huge mistake this year and that was not taking a ton of notes. I tried jotting things down when I got to my room at the end of the day, but I know I missed so much. So if I get invited back another year I will definitely be bringing my waterproof paper and pen with me!
Chris says CaboPress is the best business conference in Cabo San Lucas, I beg to differ. I think it is the best business conference anywhere in the world.