Over the weekend, I had the honor to be the keynote speaker for WordCamp Baltimore. (My theme was "Living Life as an Iceberg or a Ship," which should be on WordPress.tv shortly and hope to share online very soon.)
But I want to share a little experiment I tried on Saturday.
As I walked to the venue for the first day of camp, I was seeking to steep my soul on my topic and the stories I would share later that day. And as I got my badge, I resolved to myself: "Everyone I see today, all day, who looks up or at me, as I pass them in the halls or see them at the coffee bar, I'll just give them a simple smile."
That's it. That's all. Just a little smile.
I knew I couldn't connect deeply with every single person. But the one simple thing I could do all day — to show I was cared — that I thought might be impactful was to give others there a simple smile.
A gesture of recognition and warmth, just to say without words:
"I see you. And you matter."
In my talk, I challenged them that: "Smile are free." I told them about my day-long experiment. And said although I could make up statistics about it, scientifically I had read over and over how smiles have a profound effect on us — to ourselves and others.
And as I looked over the audience, I started seeing several people smiling back at me. And then more. And more.
I could feel the warmth, the acceptance, the recognition back to me. Little pings from one human to another. And it felt … good. Really good. The light of others humans signaling to me and a resonating glow turned on inside of me.
I am human.
I am seen by and acknowledged by other humans.
And I am accepted by them.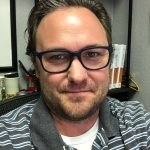 Other than one or two people mentioning it shortly afterward (I missed the next day of camp as I flew home to my family), I don't know the effects on the dozens of others I got to smile at during the day.
Did one smile provide a little light for someone struggling with something?
Did one smile remind someone of their importance and existence on this earth?
Did one smile inspire another, and another?
But I do know … smiles are a free yet priceless and powerful message to the human soul.